What is the future of Digital Design and BIM?
It is no secret that Digital Design is helping the construction industry to take big steps forward, improving quality and providing efficiencies across entire project lifecycles. Here we explore 5 areas we think will be of real benefit the sector in the coming years.
Realtime collaboration
As a designer's time is limited by both project programme and fees, time saving can be one of the keys to achieving a quality design. Communication tools are available to help Services, Structure and Architecture co-ordinate remotely and more efficiently. This is already beginning to unlock significant savings.
The direction of travel is towards real-time cooperation and collaboration with co-ordination happening in real time during the design process. This can be achieved when organisations have built good working relationships and take the time to develop processes and protocols together working in a well-established common data environment from a project's inception.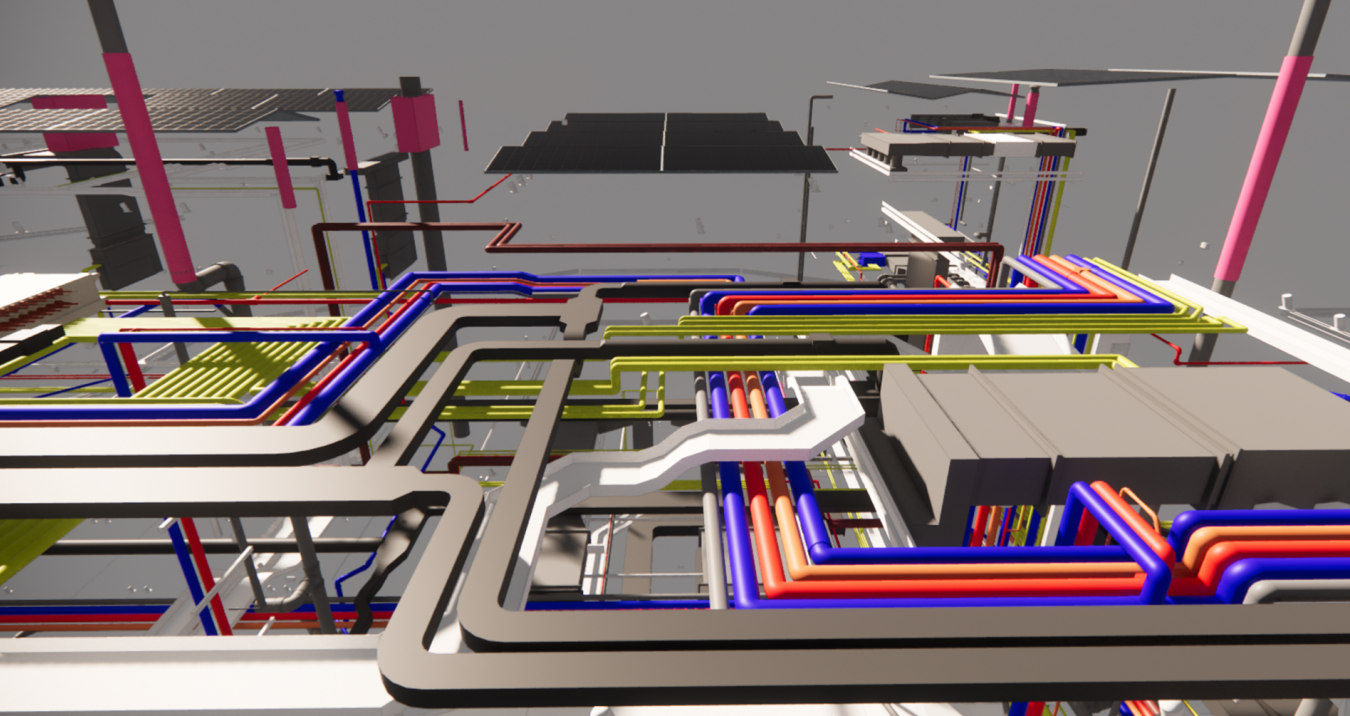 The leap from CAD to BIM
AutoCAD was released in December 1982, Microstation in 1985, Revit in April 2000. Four decades on and with numerous other 3D authoring tools being available their uses have all evolved but still largely remain as 3D CAD.
In contrast we have the vision of data and intelligence integrated into the 3D model. In this scenario, the model provides an organisational home for information allowing the ability to perform calculations, run optimisations and provide a facilities management platform throughout the building's life.
Currently, the industry still has a large proportion of experienced engineers that remain at a distance from BIM. This has brought about an arising of the BIM technician to fill this gap. Often, they are not experienced building designers, but they have taken the time to learn how to use the software. Buildings designed by engineers in partnership with BIM technicians does work but it can leave a lot to be desired in terms of quality and efficiency.
The future is of course, designers and engineers fully integrated with BIM and using this day-to-day for concepts, schematics, calculations, schedules, detailed drawings and co-ordination.

Visualisation and AR/VR for error free Installation
Avoiding errors during construction is an area of interest for anyone concerned with cost, risks, delays, quality and performance. Building services installation especially is an area where mistakes are easy to make. And indeed, there are many buildings out there where poor installations have gone undetected. This erodes long term energy efficiency and performance.
Research from the Building Performance Evaluation Programme found from its highly detailed study of 50 commercial buildings that on average BREEAM "Excellent" buildings were using more energy than BREEAM "Very good" buildings. One of the contributing causes to this is poor installation of more complex systems.
As BIM allows for such a high level of detail, we now have a remedy to poor installation. Visualisation of models via on site model can help spell out exactly what should be installed and where, leaving little room for error. This includes viewing stations and digital projection on walls and ceilings using Virtual Reality and Augmented Reality. Still in relative infancy in the construction industry, products such as the Microsoft Hololens will gradually become more commonplace on sites and should become an effective aid during installation. This does of course rely on the systems being designed correctly in the first place!
Enabling the Circular Economy
As buildings become more energy efficient, the embodied energy during construction becomes a more significant proportion of the total carbon emissions and a more pressing concern. One of the keys to low-carbon emission construction is reuse and the so-called "circular economy".
When conducting an embodied energy calculation, often the use of materials such as steel and aluminium are highly penalised due to the high energy required associated with their creation. However, these materials can be reused many times over and therefore the embodied energy is but a small fraction.
Therefore "designing for deconstruction and reuse" and creating "material inventories" are key architectural themes moving forward. BIM, with its inherent detail and material libraries, is a natural vehicle for the circular economy. If each new build was also designed for deconstruction and the material inventory made part of a central materials database, then future designers would be able to re-use the building components at the end of its life.
Facilities Management
Most building services consultant 3D models are only used up until the tender stage. At Integration we like to extend the life of our models into the construction stage working closely with the contractor to develop a beneficial asset. However, the benefit is not just limited to the construction phase. These models have significant value for the owner operator. "Digital twins" populated with pertinent information for systems and equipment allows for more effective maintenance and building management during a projects operational phase. With advances in IoT, BMS technology, cloud services and security, the linking of all this information to the digital twin will become commonplace. Smart buildings may ultimately evolve into fully digitised smart cities providing efficiencies for everyone from the everyday user through to the owner operator, local authorities and national utility providers.